The purpose of the PRA (Parent's Resource Association): is to provide a strong base to support TCMS's students, administration and teachers. Whether you are new to TCMS or a long-time parent, the PRA coordinators are here to help you become involved and connected to the TCMS community. If you have any questions, comments or suggestions, please do not hesitate to contact us. We want to hear from you! You can email us at volunteer@tcmstornadoes.com
All TCMS parents are automatically part of the PRA! TCMS requires 10 volunteer hours per family during each school year. There are many opportunities for you to obtain these hours, just look for the "sign-up genius" that goes out before every event. You can donate items through in-kind donations or volunteer at any event.
The PRA Event Coordinators/Grade Level Coordinators are TCMS parent volunteers who manage a particular event or program or oversee multiple events. This team works is always on the look-out for more parent volunteers and together drive the success of the fundraising efforts as well as grade level programs. If you want to get more involved or join this group, email us! We fill new positions each year in May. Make sure to be on the lookout!
PRA meetings are held on the 2nd Thursday of every month beginning in September. Parents are always welcome to attend these meetings. The PRA is a platform where you, as parents, can share innovative ideas and make a direct impact on your child's school environment.
Your PRA
6th Grade Coordinators: Elle Dodard & Tina Malone
7th Grade Coordinators: Jennifer Solano & Payal Makhija
8th Grade Coordinators: Maurane Aeschleman & Tina Malone
Communications: Rachel Teeling
PRA Representative to the Board & PRA General Coordinator – Yamury Germino
Use the Sign-up Genius icon to volunteer for upcoming events.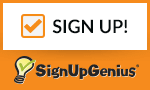 PRA Calendar of Events for 2021-2022 School Year

• Welcome Back Luncheon
• Student/Parent Orientation (Aug 6th)
• Barnes & Noble Night (TBD)
• Team Tornado (TBD)
• Book Fair (TBD)
• Fall Festival (TBD)
• Trot thru the Terrace (November)
• Great American Teach In (Nov 19th)
• Staff Holiday Luncheon (Dec TBD)
• Open House (January 20th, 2022 5-7PM)
• Valentine Breakfast for Staff (February)
• FSA Testing Breakfast (May 2022)
• Teacher Appreciation Luncheon (May 2022)
Terrace Community Middle School has been twice awarded the No Child Left Behind National Blue Ribbon School of Excellence Award in 2007 and 2014, and now we just received our third nomination for 2021!!
Links